MEET THE MAKER
Hello there, my name is Amy and I'm often asked, "Who is Bernadine?" Bernadine was my grandmother who was an amazing artist. She painted on canvas, clothing and wood cutouts that my grandfather cut. She created mementos for family members and beautiful decor for all. So, what better way to begin a business than with the love and passion of my grandma watching over me?

Now, I'm not a fine artist, but a lettering artist. I've always been obsessed with fonts and finding the right one to reflect my mood. In high school, I loved Century Gothic then graduated to Helvetica in college and now Quicksand is where I've landed. I could talk about fonts and typefaces for hours. It wasn't until college that I discovered hand lettering and instantly fell in love. I was able to create my own letter forms and combine styles to create something magical. Soon, I learned how to write with brush pens, pointed pens and paint pens, which is no small feat for a lefty. After making lots of cards and signs for friends and family, I was encouraged to start my own business and Bernadine's Designs was born.

My goal is to make you smile with every purchase. Whether you buy a wood sign, card or vinyl sticker, you are decorating your space with love. I create everything by hand (with the help of my dad for the wood projects) to make sure that your product is unique to you and not the same as what you'll find in the store.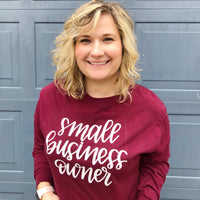 JOIN THE INSTAGRAM PARTY
Follow @bernadinesdesigns for behind the scenes, product polls and lots of other fun surprises.
Let customers speak for us